28th April 2020: A meeting between the medical team of Dhulikhel Municipality and our Nepal COVID-19 Surveillance System team was held via zoom. While the world has been in a lockdown for the past month and the governments are trying very hard to curb the spread the virus. This meeting was conducted in an effort to expand the reach of our surveillance system and our monitoring team and offer assistance to physicians and patients.
This meeting was conducted in the presence of the ward chairperson, mayor and the medical team. A previous meeting had been held with the ward chairperson to approach with our Surveillance System.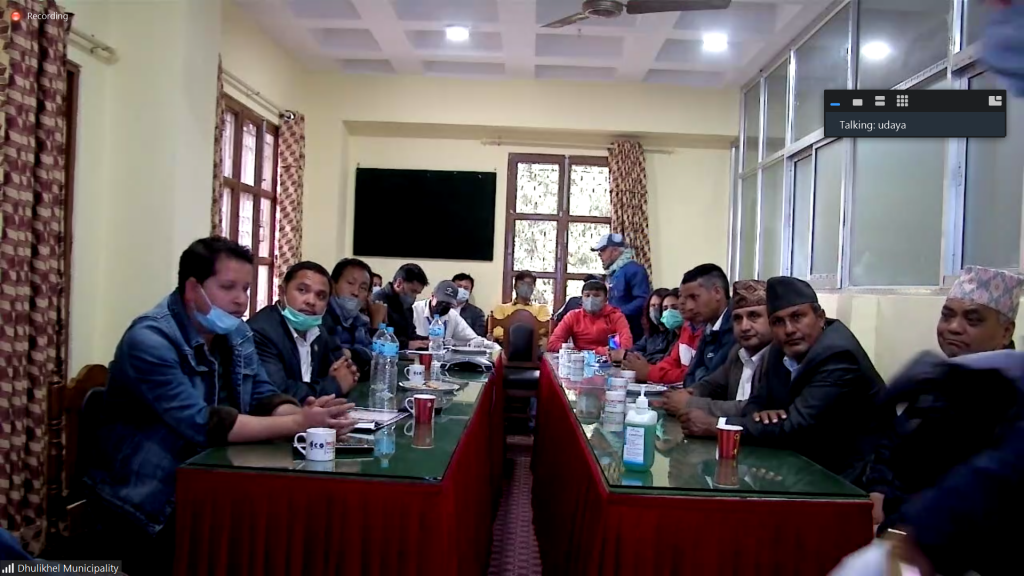 Dr. Udaya stated that we must lock-down the virus itself to stop it's spreading. The virus, he said, can only be contained if we maintain proper social distancing, wear proper protective gear and maintain proper hygiene. He mentioned that people had been walking around without masks and gloves on which put themselves and their family at risk.
They were shown a video demonstrating how to use our app and they were encouraged to download the app and use the app themselves. Dr. Bhushan Raj Shrestha showed them a demonstration of the use of triage test, multiple registrations and explained to them how the dashboard can be used.
The participants of the municipality clearly had concerns about the usefulness of the app in remote areas where people had less access to smartphones and WiFi. They also wanted to know if our doctors' team would be providing proper training to the volunteers who are dispatched to such areas.
They were reassured that the patients can update their information via a volunteer that can be miles away as the app allows multiple patients to register via the same phone number. This will reduce physical contact and spread of the virus.
All in all, the municipality's people understood about our surveillance system more deeply and wanted to spread awareness about it to the residents of Dhulikhel. This was a small step towards making our system available to the medical personnel all over Nepal. Thus ensuring a preferable and accessible system for the citizens.