Co-writer: Ms. Tina Sharma
On 28th April, 2020 a session was held with the medical staffs from various regions where the doctors, IT experts and other medical staff talked about the challenges they are facing during this pandemic and how can the challenges be handled. The interactive session was lead by Dr. Ramesh Kumar Maharjan, emergency physician and associate professor at Tribhuwan University Teaching Hospital.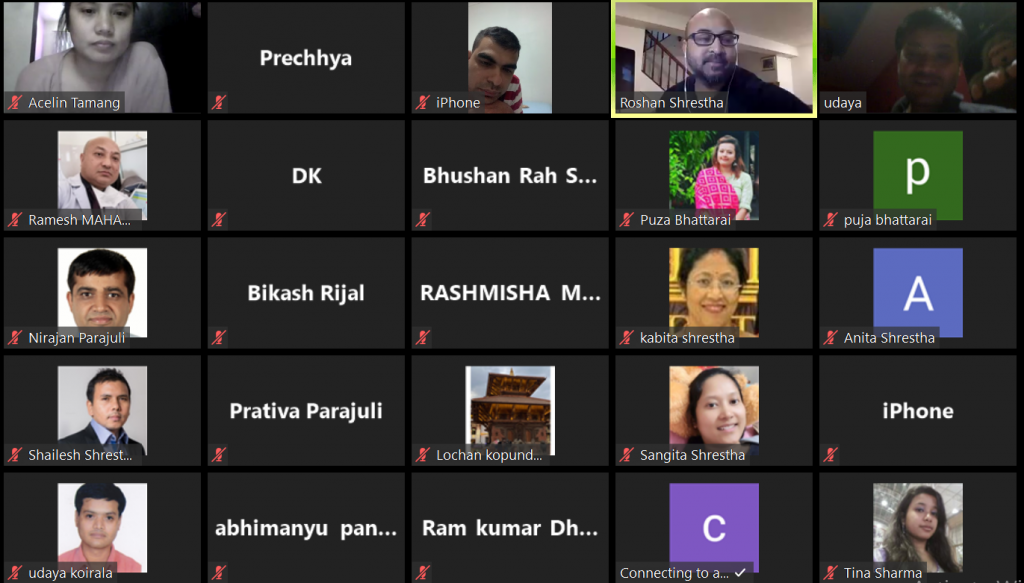 As per the medical staffs, in most of the regions many RDT tests and PCR tests have been done but no positive result has been found yet. During this session it was highlighted that the medical staffs especially of Ilam, Itahari and Saptari are not getting enough PPE suits. There is shortage of N95 masks as well as surgical masks in those areas. The local people of those areas are using sponge masks and cotton masks which are not as safe as N95 but still they must use it to protect themselves.
One of the medical staffs from Itahari said that, 3 sets of PPEs arrived just the day before and they are also planning to conduct the vaccinations for other diseases soon. There have been no patients with complain of high fever or any other serious symptoms till date. However, there are still some local people who have been neglecting the lockdown and are still trying to continue with their day to day routine.
Ms. Samjhana Timsina, medical staff from Saptari said that the isolation beds have been increased from 5 beds to 50 beds. There are no suspects of Corona Virus in their region but still patients are kept in quarantine. The community is getting aware about why this lockdown is being implemented. The patients come to hospital wearing masks. The masks are distributed by ward offices and municipalities once a week. PPE along with masks and sanitizer also have arrived in the hospital for the medical staffs.
Mr. Ram Kumar Dhamala, a paramedic from province 1 said that in his area 30 people have tested positive in PCR test; 72 people from Pakistan, India and Nepal are kept in isolation. For the purchase of essential items, there are plans to loosen up the lockdown for 2 days. The government is also planning to provide incentives to the medical staffs that are working day and night for the treatment of the patients. Various training is also given to the medical staffs for the proper use of PPE and masks. Awareness programs are being organized for the local people to explain them about dos and don'ts.
Ms. Sudha Tamang, one of the medical staffs said that there are not so many patients coming in the hospitals but still the medical staffs are not getting PPE.
According to Dr. Ramesh Kumar Maharjan, the beds have been allocated by calculating the ratio of the population. The situation could be worse than this as there are patients who cannot find any symptoms but still are shown positive during the tests.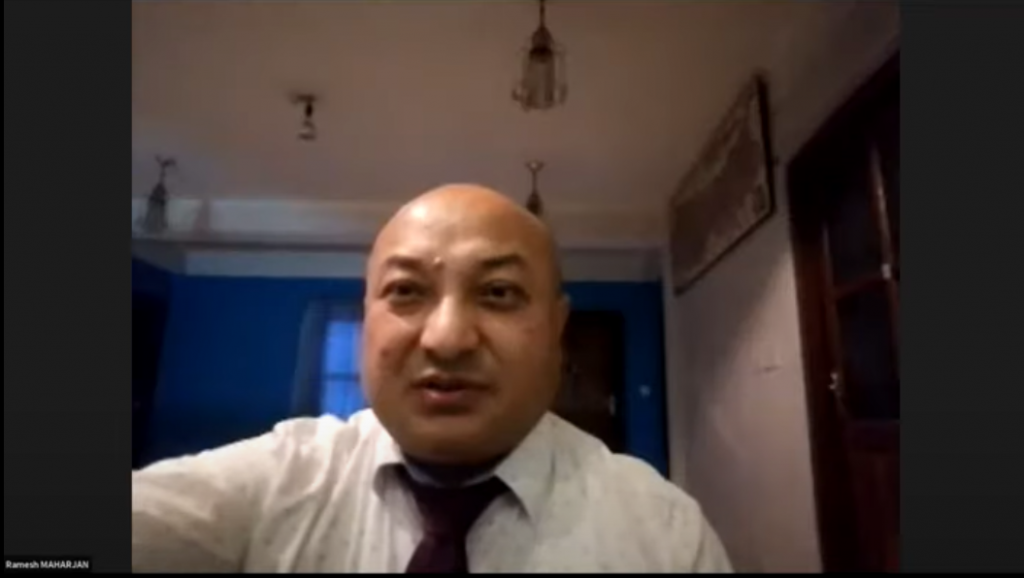 Dr. Sangita Shrestha was in doubt related to fitting kit and whether the medical staffs are explained about the donning and doffing of the PPE or not?
Dr. Bikash Rijal, a resident MD from China, told about the scenario of China. There are 10-15% severe cases and 2-3% of those people need ventilators. According to him, Italy and Wuhan had to suffer from such a bad situation due to centralized treatment. The patient with mild and moderate level of the disease is being kept in quarantine along with the high-level patients due to which they all became high risk patients. The patients should be kept separately, even in quarantine. This can prevent the situation to be worse.
One of the medical staffs even said that as the PPE must be disposed after a single use, they are unable to do so due to inadequate suits provided to them. She, along with other staffs, is feeling difficult to handle this situation. As the masks are also not enough, they need to reuse those masks for which she asked alternative. In reply to this Dr. Ramesh asked her to use UVC light which can be developed through blue light by the engineers and suggested her to talk to their seniors so that they could manage the necessary items.
She also shared the story of her sister who lives in USA. Her sister was tested positive for Covid-19. She was given antibiotics, paracetamol and cough syrup by the doctor. Along with that she drank a lot of hot water with thyme seeds (ज्वानो), ate fenugreek (मेथी) and self-isolated herself at home. After a few days, she stopped showing symptoms and tested negative.
Dr. Udaya Koirala had some complaints related to PPE. He said that the PPE for treating the corona patient is meant to be worn through legs, but we are getting PPE which are meant to be worn from head. This can be dangerous. As this will not affect the doctors while wearing it but could be dangerous while putting it off. The PPE that are currently in use was developed to treat HIV patients but as there is no other option, medical staffs are asked to use this PPE.
He also said that the local people are not provided with proper guidelines regarding the dos and don'ts during the lockdown. The patients who have tested positive are taken as a positive but the patients who have tested negative have been seen to be positive after a certain time. So, the isolation should be of 4 weeks rather than 2 weeks and those who are discharged from hospitals with negative result are still requested to sit in self isolation for few more days at home in order to break the chain. The people are asked to maintain 2meter distance in the open ground and 4 meters distance in closed areas.
Dr. Roshan Lal Shrestha, who is a research scientist in National Institute of Health, USA, stated that the WHO has not taken RDT as a proper test to diagnose COVID-19. So, the results from RDT tests must not be taken as the official results. According to him, it is better if more people are tested positive as it makes it easier to track and treat patients. He persisted that there must be mass screenings conducted to decrease the risk of spreading the disease. He expressed his happiness that there were low serious cases in our country.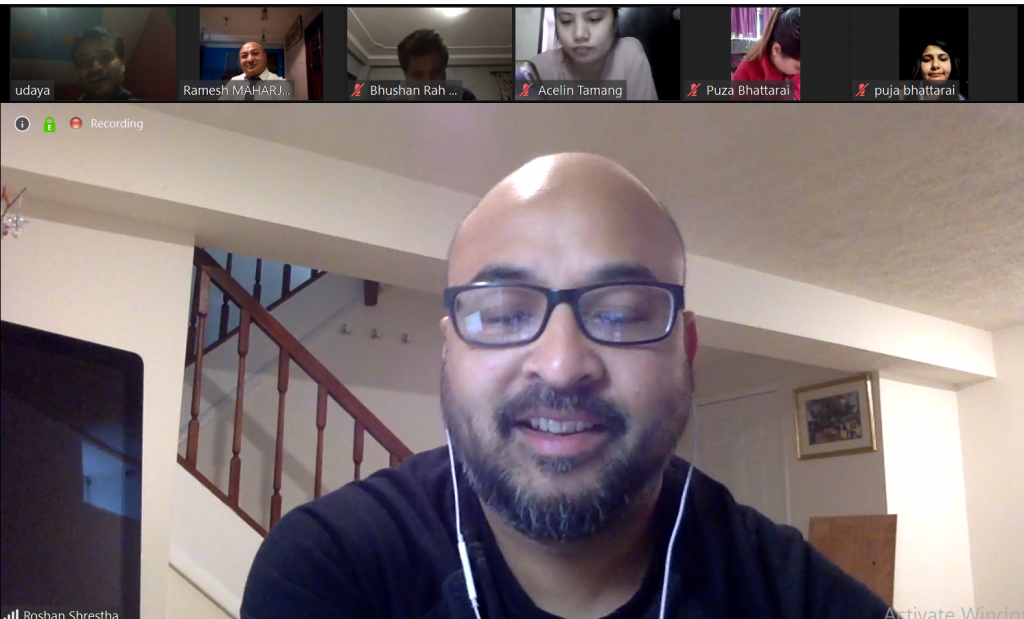 He also informed the doctors about the various strains of the virus. He and Dr. Udaya also discussed about the chances of infection through blood transfusion; which he concluded that there we no cases reported till date that showed that this virus could be transferred through blood. There was a case where a pregnant mother who tested positive for COVID-19 gave birth to a child who was negative for the virus and there were antibodies present in their body. To a query about breastfeeding, he stated that the only safe way to breastfeed would be to wear a mask while doing so. He made it clear that the virus does not transmit through breast milk in any way.
Along with medical professionals, there were people who joined the talk session to learn more about this situation. Some of the general public had some questions about the situation in the various parts of the country and the government's response to it.
Some people wanted to know how effective the disinfectant is that was being sprayed by the ward offices. The experts said that those disinfectant sprays are very useful to curb diseases like malaria and dengue but there was no proof that it kills the COVID-19.
The doctors who participated in the session highly encourage the public to maintain proper social distancing and proper hygiene. They informed that it is highly likely that this pandemic might stretch to 2022. So, it is highly necessary that as a responsible citizen we keep ourselves and our community safe.